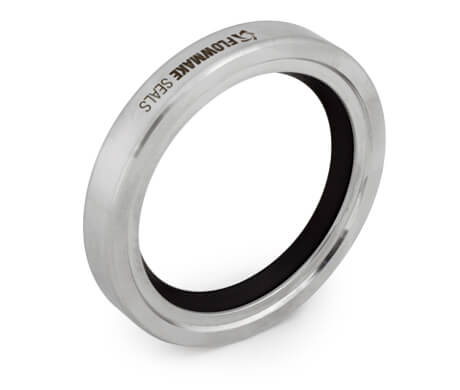 LIP SEALS
SERIES FMS602
For decades, we, as Lip Seals Manufacturer in Mumbai are providing customers with highly-efficient lip seal that has been considered the most significant element while designing rotary shaft seals. It is vastly used in wet environments like ships, water pumps, and tidal turbines. The entire purpose of lip seal manufacturers while making a lip seal is to help keep the oil and grease lubricant inside the application to prevent the ingress of water and dirt.
Lip seal types provide the function of lubrication film and high-pressure compensation. The lubrication film acts as a barrier between two different media like water and oil. It prevents lip seals from making contact with the liner. This way, you will enjoy the benefits of reduced energy consumption, less wear, a longer lifetime, and even minimum development of heat. And, since the development of heat is minimum, it will offer suitable high-speed applications.
Furthermore, lip seal in high-pressure applications encompasses extra pressure, which reduces its functions. The application needs a distinctive set of requirements. The circular shape of the furrow and peripheral velocity of the liner generates water flow between the grooves and our lip seal. Using flush water, the liner lubricates the seal, cools the module, and minimizes friction.
We are also one of the lip seal suppliers that offer seals that are highly durable and easy to install. Moreover, Flow Make Seals are the Lip Seals Manufacturer in Mumbai that offers seals at very affordable prices.
Features:
Our lip seal provides you with the following features:
Temperature resistance
Durable finish standards
Easy to install
Smooth finish
Precise dimensions
Applications:
Our lip seal types are applicable in water pumps, mixers, agitators, sewage pumps, pulp, and paper.
Performance Range:
Our lip seal manufacturer has kept the diameter of the shaft from 10-100mm.
It provides a maximum pressure of 18 bar.
The temperature of the lip seal is 20-140 °C, whereas it provides you with a velocity of 15 m/sec.