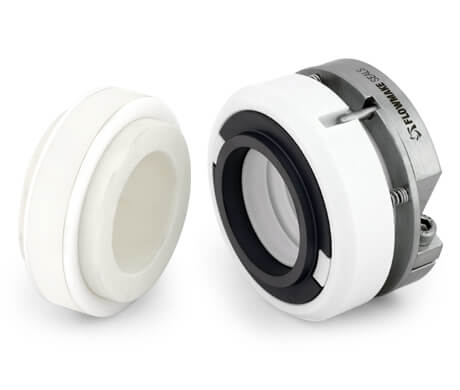 Tefflon Bellow Seals
Series FMS703
Flow Make Seals, the Manufacturer of Teflon Bellow Seal in Mumbai, provides you with a Teflon Bellow Seal that is manufactured to handle highly corrosive liquids that include concentrated acids, salts, and solid oxidization. This seal also helps in minimizing the agents and chemically active compounds.
It is mounted externally to deliver easy installation. This way, you can save a lot of your time. Moreover, since it is fixed and replaceable, it is capable of enhancing your quality of life too. The materials used for building these seals are non-corrosive, trouble resistant, low maintenance, as well as polished finely. They are even approved by our highly knowledgeable group of professionals.
Our dedicated team manages every unit of this seal within the industry-recommended guidelines. They use leading-edge technology and a modern set of machinery and even conduct rigorous checking at the production, designing, assembling, and finishing stages. You can feel relaxed as the seals that we provide are manufactured in compliance with global quality standards. So, the product you will acquire is high-quality, mechanically solid, and competitively priced.
Hence, you can obtain our seals and enjoy the benefits of our installation and repair services. After all, we work just to provide our customers the satisfaction from the products they want.
Features:
We, Flow Make Seals, the leading Manufacturer of Teflon Bellow Seal in Mumbai, provides you with a Teflon Bellow Seal whose features are given below:
Single Seal and Pusher Type
External Mounted
Independent to the direction of rotation
Cost-efficient
Unbalanced
Application:
These seals are highly suitable for handling considerable corrosive liquids, pharmaceuticals, medicals, chemicals, acids, and allied industries.
Materials Used:
The materials used for manufacturing Teflon Bellow Seal are:
FACES- GFT/CFT (Highly flexible composite mold), Ceramic, Silicon Carbide
ELASTOMERS- PTFE
HARDWARE- SS-316, Hastelloy-C, Alloy-20, Titanium