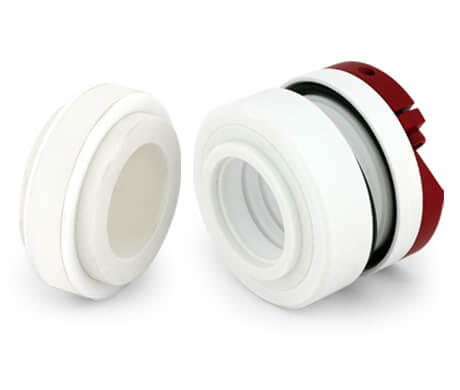 TEFFLON BELLOW SEALS
Series FMS702
Teflon bellow seals are designed to handle highly corrosive liquids, including concentrated acids, salts, sturdy oxidizing. This beautifully made bellow mechanical seal also helps in reducing the agents and chemically active organic compounds.
Flow Make Seals, the Teflon bellow seals manufacturer in Mumbai offer bellow mechanical, mounted outside using a simple installation procedure. That is why it is cost-effective for corrosive media sealing. This fixed and replaceable bellow mechanical seal improves your life thoroughly.
We, at Flow Make Seal, provide a wide range of teflon bellow seals that are corrosive-resistance, trouble-free, low maintenance, as well as fine polished. Our bellow mechanical is broadly used by a large number of industry experts. We also help our clients by offering them installation and repairing services.
This high quality, mechanically sturdy, and competitively priced teflon bellow mechanical seal is approved by professionals having extensive knowledge in the respective field.
Every unit is managed by our dedicated team of experts within recommended guidelines. Moreover, as a Teflon bellow seals manufacturer in Mumbai, we use cutting-edge technology and a modern set of machinery and even conduct a stringent quality check at multiple stages of production, designing, assembling, and finishing. Hence, you can rest assured with our qualified products you can use since we are committed to providing you with the best product we possibly can.
Features:
Flow Make Seal provides the teflon bellow mechanical seal whose features are:
Single Seal
Pusher Type
Unbalanced
Cost-effective
Independent to the direction of rotation
External mounted
Rotary single spring type
Application:
It is used for handling extensive corrosive liquids, pharmaceuticals, medical, chemical, acids, and allied industries, etc.
Materials Used:
Materials used for designing teflon bellow seals are:
FACES- GFT/CFT (Highly flexible composite mold), Ceramic, Silicon Carbide
ELASTOMERS- PTFE
HARDWARE- SS-316, Hastelloy-C, Alloy-20, Titanium
Operating Limits:
SHAFT DIAMETER- 18-100mm
PRESSURE: Maximum 5 bars
TEMPERATURE- -20 to 180 degrees celsius
VELOCITY- 25 m/sec