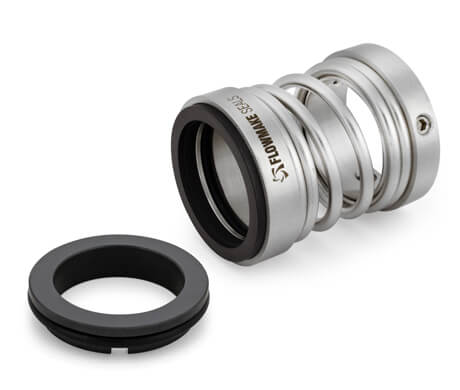 SINGLE SPRING SEALS
SERIES FMS102
Flow Make Seals offer you a highly specialized single spring seal that is installed effortlessly without taking much of your time. The best part about this product is that it can be installed on any type of slurry liquid. It also eliminates the need for adjustment in fittings because of factory pre-assembly. In terms of reliability, a single spring mechanical seal is considered the best choice. It is the appropriate product when its usage across a wide range of industries is a concern.
Moreover, as our primary focus is customer satisfaction, we provide a mechanical seal single spring that comprises properties like corrosive resistance, trouble-free activity, low maintenance, and fine finishing. Not only that, the entire manufacturing unit is managed by our team of experts. These professionals follow industry guidelines thoroughly. They check the quality at every stage, including production, designing, assembling, and finishing. Therefore, the single spring seal you acquire from Flow Make Seals will be high-quality, mechanically sound, and even competitively priced. Contact us to place the order for this product now.
Features:
The features delivered by our single spring seal are:
Cost-effective
Single spring type
Cartridge unit type
Factory assembled tested
Balance & unbalanced type
Immediate install & effortless removal
Availability of metric & inch sizes
Independent of direction of rotation
Also available with & without connection of flushing and quenching
Applications:
This single spring mechanical seal is applicable to beverages, pulp and paper, chemical, steel making industries, hot and cold water process, water and wastewater process, sewage water process, vacuum distillation, crystallization, and suspensions with low solid content.
Materials Used:
The materials used for producing this mechanical seal single spring are:
FACES- Carbon, Ceramic, Silicon Carbide, Tungsten Carbide
ELASTOMERS- Nitrile (NBR), Viton (FKM), EPDM, PTFE, TTV, EPR, Neoprene, Aflas
HARDWARE- SS 304/SS 316