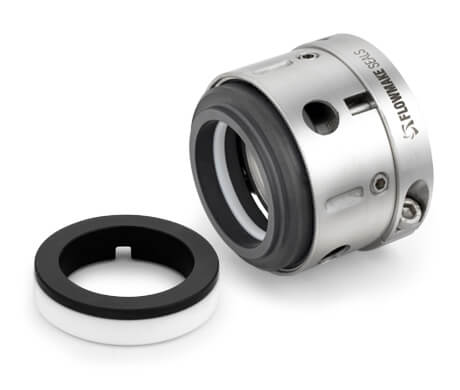 REVERSE BALANCED SEALS
SERIES FMS408
Our balanced seal is externally mounted and internally balanced spring seals that are used for eliminating the shaft step or sleeves for balancing. Since they are extremely mounted, the metal parts, as well as the spring, do not come in contact with the circulating media. This makes them highly effective for corrosive or abrasive media sealing. Moreover, its compact design eliminates the need for extra radial and axial space for its installation.
We, at Flow Make Seals, are engaged in offering a wide range of balanced mechanical seal. This application is applicable in various industries that include chemical, refinery, petrochemical, and pharmaceutical. You can even assemble and dismantle our seal using a circlip which can be converted into a balanced version. It comes with a single, double, or tandem arrangement with the help of external seal support and devices.
With the assistance of skilled and experienced professionals, you will provide high-quality balanced seals and have smooth finishing standards. We are precisely engineered and delivered in standard configurations. The seals we offer our customers are in standard sizes and functionally advanced in nature.
As we are aware of the importance of this product, we are putting together the efforts to ensure that you get a product that is highly reliable and provides complete satisfaction to you. You will rest assured of its quality and safety as a whole.
Features:
Our balanced mechanical seal provides you with the following features:
Reliable operations
Accurate dimension
Rugged design
Applications:
This balanced seal is applicable in water and wastewater, the food and beverages industry, oil applications, and general applications.
Materials Used:
The materials used for making a balanced seal are:
FACES- Silicon Carbide, Tungsten Carbide, Carbon, and Ceramic
METAL PARTS- SS316, SS304, Hast-C, Monel, Alloy-20
SECONDARY SEALS- NBR, Viton, PTFE, EPDM, Neoprene